Samuel Laurencelle
Disability Planning Attorney in Connecticut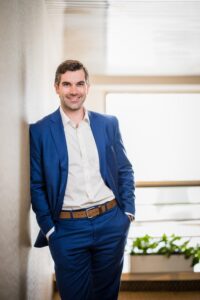 Hi, I'm Sam! I began my legal career as a corporate attorney but the glossy veneer soon wore thin. I suddenly found myself facing a lack of connection to the work that left me feeling unfulfilled.
My desire as an attorney has always been to practice law in a way that allows me to both develop a deep connection with my clients and to become their trusted advisor and counselor. My calling was found guiding clients through the estate planning and business succession planning process.
I believe that the most important role of an attorney is to thoroughly understand the client's situation and desires in order to provide thoughtful advice that enables the client's wishes to be executed properly. I love being able to develop great rapport with the people I serve and enjoy getting to know their family and businesses so that I can tailor a plan that best serves their long-term aspirations and needs.
I studied management at Central Connecticut State University graduating summa cum laude and went on to manage my family's 100-year-old manufacturing company, Shiner Signs. I attended law school at the University of Connecticut School of Law in order to deepen my knowledge of business in a way that an MBA program could not provide.
While in law school, I served as Executive Editor of the Connecticut Law Review and studied under the tutelage of one of the world's preeminent tax experts, Professor Richard Pomp, serving as his research assistant. I decided to enter the practice of law to put my unique background to use and am able to do so at Disability Planning Partners, where I will be leading the segment of our work dedicated to business planning.
A true New Englander, my greatest passion is skiing, and I can usually be found deep in the Green Mountains of Vermont, or the high alpine peaks of the White Mountains in New Hampshire with my family and friends. When the snow isn't flying, I enjoy hiking, mountain biking, and relaxing on the beach.
A perfect day is when my I get to meet face-to-face with our clients.
I love when our clients tell us their stories. Everyone has a story to tell and by sharing we get to know one another on a deeper level that results in a fantastic relationship and the proper execution of the client's wishes. I also love when our clients ask us questions. This helps them understand the estate planning or business succession planning process better. Being well-informed is invaluable.
I hope our clients know that we truly care about them and that we love the work that we do here at Disability Planning Partners.